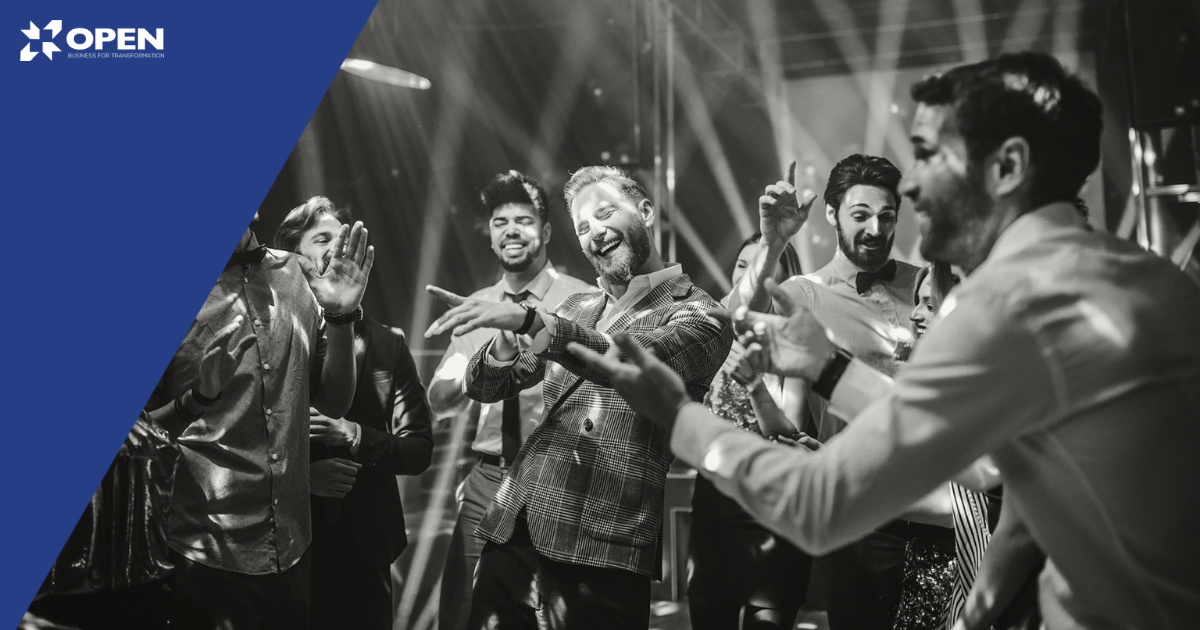 Imagine going to a wedding. Upon entering the venue, you are awestruck by the beautiful décor. Much time and attention has been devoted to make this day special for the wedding couple. Your excitement for them grows as you walk into the room and take your seat – it's their big day!
But now imagine that right when the bride begins walking down the aisle, the Best Man begins dancing around and drawing attention to himself? What if he can't stand not being the center of attention for that hour and does everything in his power to distract everyone from the main event? What an awkward and embarrassing distraction!
There is a commercial about someone using AT&T to stream college football during a wedding. The commercial is funny precisely because it is so ridiculous. In real life, it would be horrifying if something like that happened. Why? As everyone knows, the center of attention at the wedding should be the couple getting married.
John the Baptist
John the Baptist used this same wedding imagery to describe his relationship with Jesus. But before we go there, let's take a quick look at his life. He was an amazing man. He was an expert at drawing attention away from himself and putting it on Christ. John 1:7-8 says, "He came as a witness, to bear witness about the Light, that all might believe through him. He was not the Light but came to bear witness about the Light."
He said things like, "He who comes after me ranks before me, because He was before me" (1:15) and, "I am not the Christ" (1:20). He gave a negative answer concerning his identity 3 times (I am not the Christ, I am not Elijah, I am not the Prophet, 1:20-22) before giving a positive answer: "I am the voice of one crying out in the wilderness, 'Make straight the way of the Lord,' as the prophet Isaiah said" (1:23).
Who are you NOT?
Unlike the times in which we live, where we are taught so much self-talk, self-esteem, and positive identity formation, John the Witness / Baptist was more concerned with who he was NOT. That helped him direct all attention toward the one to whom it was due: Jesus.
Even when he was asked why he was baptizing, he answered in relation to Jesus: "I baptize with water, but among you stands one you do not know even he who comes after me, the strap of whose sandal I am not worthy to untie" (1:26-27).
When he saw Jesus, he couldn't help but declare, "Behold, the Lamb of God who takes away the sin of the world!" (1:29).
In 3:29, he calls himself a "friend of the Bridegroom." A friend of the bridegroom is defined by what he is not—the groom. As it turns out, when we take center stage and distract people from seeing Jesus clearly, we are like the annoying Best Man mentioned earlier.
Who do you point to?
Lastly, and most astoundingly, John's disciples approach him in John 3 feeling insecure that his followers are leaving to follow Jesus. Look at John's response: "…The friend of the bridegroom who stands and hears him, rejoices greatly at the bridegroom's voice. Therefore, this joy of mine is now complete. He must increase, but I must decrease" (John 3:29-30). Remarkable!
John had built up a following as he proclaimed the Messiah's forthcoming. As his followers began to turn and follow Jesus, the natural human reaction is to feel a sense of loss, of loneliness or even rejection. Yet, John's joy became complete when everyone stopped looking to him and instead looked to Jesus. Every leader would do well to follow his example.
In B4T we have everyday opportunities to put the spotlight on Jesus. We need Jesus to show up at our place of work; when He does, He gets the glory and honor. Whether it is issues with cashflow, suppliers, supply chains, or strife with employees, Jesus has something to say in our moment of need. By making Him the center of attention, we are demonstrating to our employees how this life should be lived, and that no area of our life and work is outside His jurisdiction. Even the way we conduct our business is under His lordship.

Greg is the President of OPEN USA. He used his education to work as a tentmaker in the Middle East for 8.5 years seeking to plant a church amongst a least-reached people group. Currently back in the USA with his wife and children, they aim to return to finish what the LORD used them to start.
To learn more about B4T, read Business for Transformation by Patrick Lai.