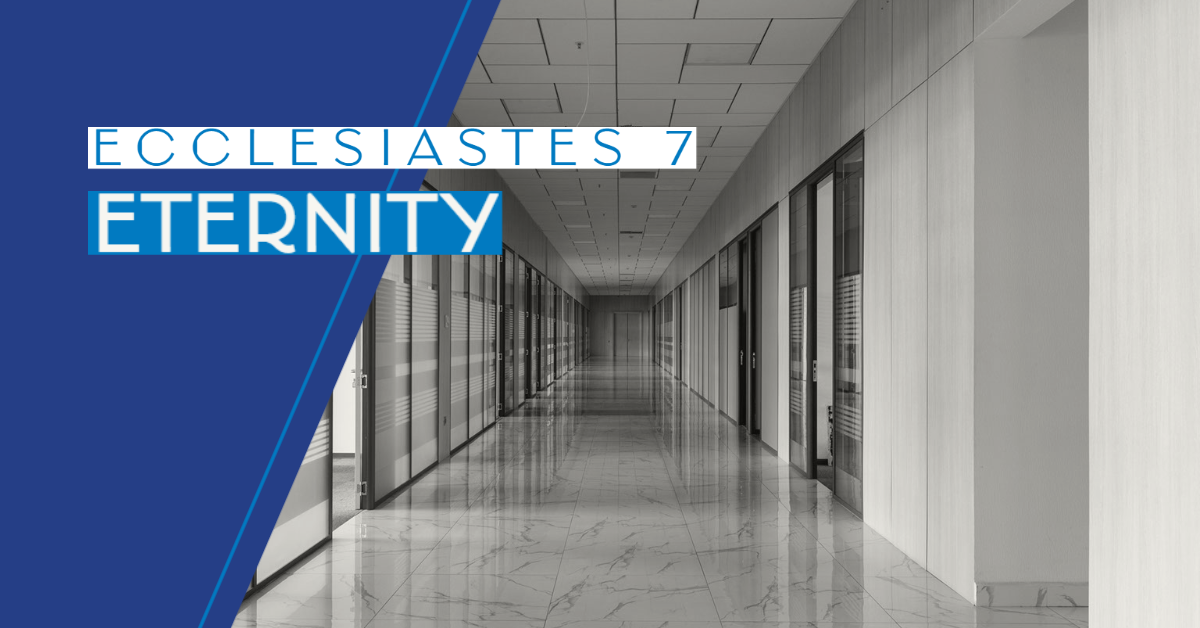 This is part 9 of a many-part blog series on the book of Ecclesiastes.
Today it is universal to create a tagline for your book cover. If Solomon wrote Ecclesiastes today, the tagline of the book could be, "Learning to live by preparing to die." We will see why in chapter 7.
Upside Down World
We continue in a world that seems so upside-down it can make our heads spin. I once had a long bout of vertigo associated with parasites I had picked up in a developing country. It was so disorienting to see everything circling around to my left that I would have to immediately find a seat. I would feel similarly if I read Ecclesiastes without the Cross in view. But I'm getting ahead of myself again— we will come back to that at the end. In Ecclesiastes 7, Solomon gives us examples of things that are better in this upside down world.
It starts off normally, but quickly takes a turn:
"A good name is better than precious ointment…" (7:1a) OK, I'm tracking with you. "…and the day of death than the day of birth" (7:1b). Hold up. Wait a minute. Say that again?
Solomon continues:
"It is better to go to the house of mourning than to go to the house of feasting, for this is the end of all mankind, and the living will lay it to heart" (7:2).
Parties & Funerals
Since the world has been turned upside down, the intruder—death—gives us a new perspective from which to view life. Solomon is basically telling us that death is a better teacher than birth. When you attend a party, you go with a particular care-free attitude; you are there to have fun.
But when you go to a funeral, you tend to think with a renewed seriousness about how you want to live the rest of your life, especially when the funeral is for one whose life was cut unexpectedly short due to a tragedy. When we think about the end of our lives, we choose to make course corrections that don't enter our minds at a party.
I was recently at a funeral (better called "A Celebration of Life") for a B4T family who lost a child. It was, of course, heart wrenching. Yet it was also full of joy because of the future hope we have in eternity. Everyone left that place with an eye toward a better country, a heavenly country (Hebrews 11:16). When you go to a party, it's rare to leave with that renewed focus.
Better
There are 6 phrases that use the Hebrew word "tov" (good) for our English "better." They naturally group into doubles and can be outlined this way:
Death is a better instructor for the living than birth (7:1-4)
Rebuke is better than frivolous praise (7:5-7)
Patient hope is better than arrogant whining and anger (7:8-10)
The section is capped off with a 7th "tov" saying regarding the relative advantage of wisdom (7:11-12).
At the end of all of this, "Consider the work of God: who can make straight what He has made crooked?" (7:13). This is a crucial verse. Everything seems so upside down, and Solomon feels the weight of the words he has spoken, but doesn't fully understand the "why."
What does all of this mean? Two things must be held true at the same time. On one hand, wisdom really is better than folly (vv.11-12): you can live better now by realizing you will die (vv.1-4), by keeping the type of company who will rebuke you rather than flatter you (vv. 5-7), and by patiently trusting God in your circumstances rather than complaining (vv. 8-10).
On the other hand, we can't know what will happen tomorrow; the floor could fall out from under us without a moment's notice, so we can't count on living wisely to be 100% correlated with gaining anything under the sun.
What is Your Life
James 4:13-16 says: "Now listen, you who say, "Today or tomorrow we will go to this or that city, spend a year there, carry on business and make money." Why, you do not even know what will happen tomorrow. What is your life? You are a mist that appears for a little while and then vanishes. Instead, you ought to say, "If it is the Lord's will, we will live and do this or that." As it is, you boast in your arrogant schemes. All such boasting is evil."
This passage in James brings me back to Ecclesiastes 7:13-14: "Consider what God has done: Who can straighten what he has made crooked? When times are good, be happy; but when times are bad, consider this: God has made the one as well as the other. Therefore, no one can discover anything about their future."
Job agrees with Solomon when he says, "The LORD gives and the LORD takes away; blessed be the name of the LORD." (job 1:21). Job also says, "Shall we receive good from God, and not evil as well?" (Job 2:9-10).
Solomon refers to his own life as hebel when he says that he's seen the righteous life cut short and the wicked prolonged (7:15). The rest of chapter 7 is Solomon's frustration at his lack of ability to understand why things don't work as they were intended, despite his best efforts to apply wisdom to gain insight (7:23,27-28). Though he can't put his finger on the cause of this distortion, in 7:29 he acknowledges that God made man good, but our schemes have turned the world upside down.
Controlling the Outcome
In B4T, we control even less of an outcome than we would in our home countries—and in our home countries, we don't control much! Our businesses can fail, we can lose our health or our children, we can suffer large scale injustices, and the list goes on. One thing I've learned over the years is how much bad theology I've brought to the table. "I did everything right, LORD," I would say. "Why is this effort not being blessed?" Do you see the bogus expectation? If I'm doing enormous good, YOU are supposed to bless it!
We must not put our faith improperly in good outcomes by living wisely, because who can make straight what He has made crooked? (7:13), and God has made both prosperity and adversity (7:14). Many have gone before us who have suffered seemingly nonsensically, and many of us can count on it as well. Rather than losing faith, we should put it more squarely in our future country, that better country that staring death in the face helps us long for. I can't wait for THAT Day.

Greg is the President of OPEN USA. He used his education to work as a tentmaker in the Middle East for 8.5 years seeking to plant a church amongst a least-reached people group. Currently back in the USA with his wife and children, they aim to return to finish what the LORD used them to start.
To learn more about B4T, read Business for Transformation by Patrick Lai.