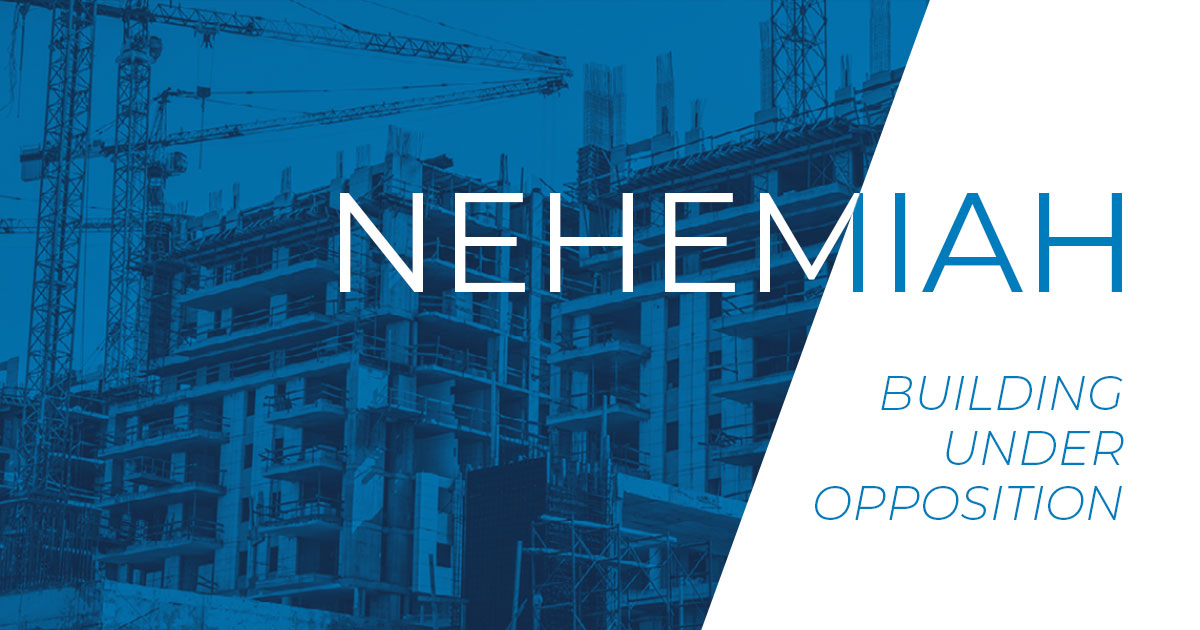 This is part 5 of 7 in a series about Nehemiah.
Nehemiah gains momentum, and then in 4:1-3 the opposition arrives. It comes via some traditional enemies of the Jews, but as is often the case—like the Jewish tax collectors in Rome 450 years later—there are Jewish collaborators with them (Nehemiah 6:18 among a few other places).
Whenever you do something worthwhile, you will face opposition at some point. If you don't have people who are against you for the long haul, it might be time to check why your Christ-centered work isn't offending anyone. We also have an enemy in the heavenlies who hates what we are doing.
Insults and Threats
Opposition comes, first with insults then with threats. Nehemiah says the people had a mind to work (v.6) and persevered anyway. The bottom half of the wall was joined together, and a major victory had been won, but it was all slog from there on as the top half required more effort. When the threats came they prayed and set a guard of protection every night.
They trusted the LORD but put appropriate measures in place. So must we prepare the horse for battle and give victory praise to the LORD (Proverbs 21:31).
Going to God
Nehemiah receives insults and directs them to God. This is critical for leaders; we must learn not to complain first to others about our problems but instead go to God with our grumbles. He can take it! He will also shape our hearts in the process and redirect some of our anger into costly love, like Jesus before us! After spending some time with the LORD, he felt strengthened enough to get to work: "So we built the wall" (v.6)
Just as the first fake news was in Genesis 3 rather than in the 2010's, the first trolls were in Nehemiah's day rather than in the internet age. Sanballat and company did everything they could to jeer and insult and tire out the people for their own political agenda (vv.7-8). Nothing is new under the sun.
Where is the Focus?
By 4:10-12, the entire group was becoming weary from it all. Nehemiah had prayed and set a guard (4:9). In 4:14, Nehemiah reminds the people who is with them. He doesn't focus on their tiredness, he doesn't focus on the enemy's strength, but instead focuses on the great and awesome LORD. We need to REMEMBER Him and go to battle.
When we are under attack, it is appropriate to slow down the work and spend more time at prayer. Yet, to stop the work altogether is to give into the enemy's demands – at least in this case. Nehemiah's idea was excellent: keep one person working on the wall and have another person armed next to them. In the same way we need people praying for our work amongst the least-reached.
When our enemies heard that it was known to us and that God had frustrated their plan, we all returned to the wall, each to his work. (4:15, emphasis mine)
The people had stopped walking in fear and started walking in faith, so the plans of the enemy couldn't hold them back any longer. "His work" in 4:15 turned into "the work" in 4:21.
When we labor together, it's none of our work but instead "the work" because we begin building on the only thing that matters. The Kingdom of God is worth all our best building efforts. It is worth submitting all our own little kingdoms to His so that we may bring about a thriving civilization of human flourishing to glorify God and enjoy Him forever.

Greg is the President of OPEN USA. He used his education to work as a tentmaker in the Middle East for 8.5 years seeking to plant a church amongst a least-reached people group. Currently back in the USA with his wife and children, they aim to return to finish what the LORD used them to start.
To learn more about B4T, read Business for Transformation by Patrick Lai.